"Here's How Hundreds of Photographers Just Like YOU Got Real Good at Photoshop, Real Fast!"
Amaze Your Friends and Family When You Create Gorgeous Photographs and Then Sell Them for BIG Profits!
...
From: Robert Schwarztrauber
Date: Friday 8:30 am
Regardless of whether you're new to Photoshop, or an old pro, whether you own an older Photoshop version or are working in "The Cloud", you know Photoshop can be a bit unfriendly at times. (and that's putting it nicely!)
But it's also the best and most versatile software on the planet for creating fabulous photos from boring snapshots. So you are wise in putting forth the time and effort it takes to get good at using Photoshop.
Luckily,  I developed an easy way to master this beast!
Use it, and you'll be cranking out beautiful photo creations yourself in no time at all. Even if you're brand new to Photoshop. I've helped folks from 8 to 80 quickly get good at Photoshop, so I'm betting I can help you too.
If you're reading this page, chances are you've been frustrated by Photoshop, just like I was in the beginning. More likely, you're beet-red-throw-the-computer-out-the-window mad at this stupid program!
It also means you've decided not to be beaten by a software that so many others have mastered to such great success. You're willing to learn how to do it.
You know you can do it. You just need someone to help you get started. Someone to show you a few simple tips and tricks to set you on your way. Someone to give you that "Ah-Ha!" moment when it finally all clicks.
You're right.You can do it!  (I know anyone can if I did!)
"Taking time to learn Photoshop
was one of the best things I ever did for my photography."
"Your way of explaining things Bob, does more for me than all the videos." Bill T., Ontario, Canada
Once I could do a few common edits successfully, I quickly went from rookie photographer to posting award winning photos in international contests.
With Photoshop to back you up, you can be a little loose in your picture taking skills and still come off looking like a pro!
Like you, I started with no skills in Photoshop. In fact, the first three months I couldn't even figure out how to open a photo to edit! Pathetic, right?
I would get so mad playing around, then just close it in disgust until I gathered the courage to try again a week or so later.
Then , in just one day, all that changed when  I watched a video of this guy as he opened a photo and created a masterpiece. He gave me the key.
Step-by-step he showed me what I'd been  missing all along. It finally clicked.
I was hooked!
But there was a problem…
Next thing I know, I'm spending hours and hours and hours watching videos on how to do Photoshop. Then I'd open my program and try to do what they did.
I'd be up until two in the morning and my wife was getting mad!
Sure I was learning, but it was taking much too long. There had to be a better way.
I figured out the biggest problem was I couldn't remember all the steps the guy did in the video. I'd have to keep going back and rewinding and watching the same video over and over. That's where I was wasting all my time.
So I devised a simple technique.
As I watched the videos, I'd write down all the steps the teacher was showing. They moved right along so I had to write fast. That was good because it forced me to write just the most important parts of what the guy was doing. Kind of like crib-notes or cheat sheets.
Next thing I knew I had a whole box of index cards I could refer to anytime I wanted to do something. Anytime I was stumped,
I'd just pull out the card I needed, follow the steps, and BINGO!
I'd be done in no time!
Funny thing is, once you get into Photoshop you find yourself doing the same common edits (techniques) over and over again. Once you get the steps down…
Photoshop becomes a breeze.
In no time at all I was submitting photos to contests and winning!
My photo buddies were impressed. But no one was more amazed than me.
Soon, everyone was asking how I changed so fast. When I told them about my cards, you guessed it, they all wanted a copy!
And they loved them.
"This is a great Photoshop shortcut," they said. "You should sell these!"
Well, I had no intention of becoming a "Photoshop Guru". Heck, I was just doing what I'd been shown to do. I was no pioneer.
But they convinced me to put the cards together in a package and sell them on the internet. It turned out they were right. I had underestimated how many people struggled with Photoshop like I did in the beginning.
Here I thought I was the only one.
I thought I was the dope...
...and now I'm the teacher!
Surprisingly, hundreds of these books were sold in no time at all.
Turns out, nearly everyone is looking for an easier way to tame the Photoshop Beast. We all want someone to just give us the steps to get the job done. (Wish I had them when I started!)
Reminds me of that old quote: "Give a man a fish and he'll eat for a day. Teach a man to fish and he'll eat for a lifetime."
That's all great, but when I sit down to edit a photo…I just want the darned fish! When I sit down to edit, I just want the steps to "Git-R-Done!" I don't want to start learning. I don't want to be taught, I want to do!
Now, you don't have to spend hours watching and re-watching videos. You don't have to read boring, thick, complicated manuals
You don't have to fly off to some high-priced lecture, school, or convention. You don't have to struggle trying to figure it out on your own either. I'm give'n you the whole darned fish!
Introducing,
 "Photoshop Recipe Cards"
I got that name because once I'd assembled the cards in a pack, I thought, "Hey, these are just like recipe cards!"
No one goes to cooking school just to bake cookies right? We just follow the recipe.
We don't need (or want) to sit for an hour watching a "How to Bake Cookies" video. We just need a plan. A little of this, a bit of that and we're done! Mmmm…hot cookies!
We don't want to learn Photoshop
…we just want to DO IT!
That's the beauty of Photoshop Recipe Cards. Each card has just 5 to 7 simple steps that get you quickly from beginning to end.
Step-by-step instructions that take you quickly and easily from start to finish.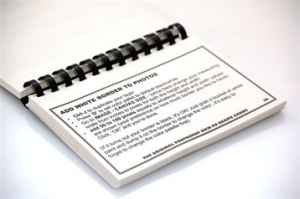 Easy to Follow - Photoshop Recipes
No Special Skills Needed!
Just follow the recipes!
000
Here are some of my favorite cards and what they do…
•   How to magically straighten your photos, perfect every time! pg. 1
•   How to make gorgeous (free!) frames for your photos– digitally! pg. 3
•   Create that classic "Antique Photo " look in just 3 simple steps! pg.13
•   High-Key images…without an expensive studio set-up. pg. 18
•   The trick to creating razor-sharp images …fast! pg. 24
•   The pro's secret to removing dark circles under beautiful eyes. pg. 39
•   Can't draw? So! Turn photos into money-making pencil sketches. pg. 45
•   Turn scowls to smiles. No more ruined family portraits! pg. 17
•   Look younger! How to remove wrinkles and creases fast! pg. 59
•   Photos too light? Too dark? Just 2 clicks to the quick fix! pg. 58
000
"The cards arrived in sunny Australia safe and sound. Thanks very much. They are already speeding up my workflow!" Dave H. from Sydney, Australia
Turns frustration into fun!
Imagine your friends' surprise when they see your first Photoshop Masterpiece!
You don't have to be a frustrated artist anymore!
In no time at all, you can turn your so-so photos into award-winning, profit making art! Just like I did.
This winner I composed from two shots, the dancer, and my arm holding a brush.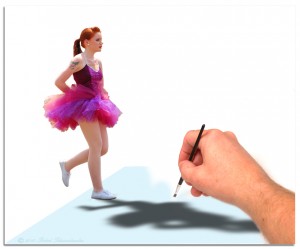 Combine Two or More Photos Into One
I cut out the girl and her shadow from a parade photo, cut out my arm, and stuck them together with a bit of blue paint added. It really can be this simple!
Here's a recent comment I got about my cutout technique from a retired service veteran who's pursuing his 3rd career now, as a photographer:
ooo
"Received the Tip Cards and decided to use pg.12 for extract.

All one can say is "WOW" I was so impressed with that feature and the ease of use that I decided to change all the poor backgrounds in the Church Directory about (30 photos). It caused me more work but overall well worth the effort. Only 51 more cards to learn. Thanks again!" Tom Brayman, FL.
000
That's only one example of a Photoshop "newbie" putting just one of my tips immediately to use. Not merely for his own personal art collection or amusement, but to re-do an entire church directory!
That's the power of simplicity!
You don't have to immediately sell your new creations, but you certainly could do that if you wanted to. Many folks have.
In fact, there are many ways you can use your new Photoshop skills for profit…
• Create ad photos and marketing promotions
• Create cards for school sports teams
• Start your own unique baby photography business
• Design scrapbooks for busy moms
• Restore old photographs to preserve precious family memories
• Create fabulous art to hang and sell in restaurants
• Create fabulous art to sell online or in galleries
• Teach your new Photoshop creative skills to local clubs
• Create calendars or other fun and promotional items to sell
on sites like Cafepress.com or for local businesses
• Design and sell your own line of specialty greeting cards
000
Makes Women Look Younger, Slimmer, more Beautiful!
ooo
"Robert thanks so much for creating the "Photoshop Recipe Cards". I received them in the mail this afternoon, and have been trying them out all evening! The skin softening tip #41 (using filters) is fantastic. I took a photograph of myself and my husband from New Year's Eve and I think it made me look 10 years younger! The large size card pages are good too. I look forward to applying these recipes to more of my photos and taking my business to the next level. Sheryl T., Cloud Nine Photo Magic
Those are just a few of the proven ways I know of to use your new Photoshop skills and create some extra cash.
I'll tell you even more ways to make money with your photography a bit later on.
With your new Photoshop photo editing skills, there's no end to the opportunities available to you. You can build your own photography business or you can use your skills to help others in their business.
The internet has created
a huge steady thirst for new artwork.
Every day people are creating new websites (that need photos) and existing websites need to update their photos regularly to keep it fresh and inviting.
New print and promotional items are always in demand.
With your Photoshop skills you can add a nice second income creating custom work for yourself or for others. It's an ideal spare-time business for anyone who needs some extra cash!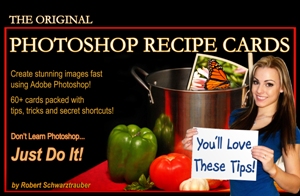 The Easy Way to Edit Photos!
Photoshop Recipe Cards
quickly give you the skills and confidence
you need to succeed.
Thousands of people, all over the world, are now enjoying Photoshop and profiting from these simple step-by-step tip cards.
These cards save time, build skills, and put the fun you were expecting back into photography.
You'll amaze you friends with Photo Masterpieces you now create in minutes, not hours.
I almost forgot to tell you about all the keyboard shortcuts too.
Some of the Photoshop processes can be tedious, Changing brush sizes, going from black to white, getting the photo to fit on your screen, changing or adding layers, zooming in and out to look at details.
No more!
There are actually secret keyboard shortcuts built into Photoshop.  By using one or two "secret" keys, you can eliminate the multiple steps you used before.
FREE SAMPLE:KEYBOARD SHORTCUTS

Simultaneously pressing the Ctrl and I keys will change a black layer to it's opposite, white! Or invert the effect on any layer!

Pressing the Spacebar and holding down the left mouse button turns your cursor into a hand that lets you move your photo all around the screen!
There are tons of useful keyboard shortcuts on these cards to really speed up your work.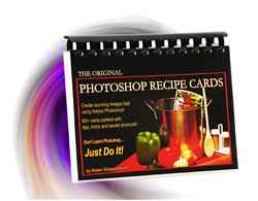 Get Your Book Today!
Photoshop Recipe Cards
are the ultimate DESK REFERENCE
for anyone who wants to do Photoshop
better and faster.
"They (Photoshop Recipe Cards) are a great asset. I've been following Bob's blog and been printing out his tips and tricks too. He's very, very good." Bekkie from NPB 1.0
You get:
Step-by-step tips for doing all the most popular Photoshop edits
You get keyboard shortcuts that get your edits done faster
And you get my tips and tricks for cranking out award winning photos in no time at all.
 Summer Discount Price now just $15.95 thru 8/30/15

000
 Need More?
Beginners get a quick slide into mastery! And folks who already know Photoshop get an arsenal of quick reference tips to enhance and inspire their creativity.
There's something for everyone.
Which reminds me…with so many versions of Photoshop out there, people often ask me if it works for their version.
And the answer is YES!
See, when I first started this adventure, I was using the earlier Photoshop 7. When I watched the videos, I would see all kinds of Photoshop versions being used. I had to adapt my notes, translate them into the most simple terms.
The result was nearly universal step-by-step techniques that anyone could use regardless of what Photoshop version they had.
From the early Photoshop 6 and 7 versions up to the new CS5 and 6 versions, even Elements users will find Photoshop Recipe Cards helpful.
You might find an occasion step substitution is needed to work on your version, but the overall techniques will work wonderfully on any system.
For example, the cards are based on Photoshop for Windows. If you have a Mac, you'll substitute the Command key for the Windows Ctrl key. Nothing too complicated.
Windows or Mac, Elements or Photoshop CS5, beginner or pro, everyone will find the simple tips and tricks in this book well worth the small investment.
I recently updated the material in the book from what I learned as a member of the National Association of Photoshop Professionals. So you know you're getting great stuff!
In fact, those big shots charge hundreds of dollars for their courses and seminars. That's great if you're in the graphic arts business, but most of us are just hobbyists or small time photographers who simply want to improve our craft. We're not designing brochures or ads for Madison Avenue or Hollywood movie trailers!
As I said earlier, I didn't set out to be a Photoshop Guru . I just want to help folks get good using Photoshop. I just want to help folks avoid the struggle and frustration that plagued me at the beginning.
I just want folks to have an easier, faster way to just DO Photoshop instead of putting all that time into "learning".
You will learn from my cards, but the right way, the best way… …you'll learn by actually doing it!
So I'm not charging hundreds of dollars for these shortcuts. Though I could.
Even though I spent hundreds of hours watching the videos and reading the books—all the while taking page after page of notes, you'll get the benefit of all that …without the hard work, time, or expense.
Remember in school how you had to sit through day after day of classes, everyone learning the same stuff? How great if one person had been elected to take all the notes and the rest of you could go to the beach!!!
Well, consider me that guy! Don't worry, I enjoyed it. And I got the results I was after. And I'm happy to pass my notes to you so you can just get to it!
Take my notes and have fun with Photoshop.
Stop fighting with it!
I'm not charging $395 for my live seminar that you have to fly to. I'm not charging $97 for my 7 set DVD course that you'd have to load and watch over and over again to find what you're looking for (you can find plenty of free videos tutorials on YouTube). I'm not even charging $59 for a loose leaf binder full of page after page of confusing text hoping to sell you on weight alone.
Instead, you'll have the best, most useful, most concise, to-the-point, "meat and potatoes only" reference guide to Photoshop!
Over 100 tips, tricks and secret shortcuts packaged into a simple to use recipe card format. "Do this, do that, get great photos." Couldn't be more simple.
The pages are printed on real card stock for extra durability. All the pages are bound in a convenient, lay-flat comb binding so the pages stay open while you work. There's even room to add your own helpful notes or favorite settings!
The table of contents lets you quickly find what you want to do, and turn right to the page. (Yes, it's old-fashioned, but faster than any Google search you could do!)
Everything about this book has been carefully designed to speed your workflow.
Don't waste money on all those fancy courses. Don't waste time trying to do it all yourself. Let Photoshop Recipe Cards help you cook up some great photos in no time at all!
ooo
Here's just a few of the great "Recipes" you'll find inside…
• Straighten Horizon
• Perspective Correction
• Create Frames
• Slide Subjects into Containers
• Glow
• Selective Sharpening
• Create Shallow Depth of Field
• Isolate One Layer
• Resize Without Crop or Distortion
• Add Shadow
• Dodge and Burn
• Background-Subject Removal
• Antique Look
• Fool-proof Borders and Frames
• Prints Turn Out Too Dark
• Quick High-Key Images
• Ultra Sharp Eyes
• Sharpen With High Pass Filter
• Faster Cut-outs
• 3 Quick Steps to Great Photos
• Photos to Pencil Sketches
• Selective Coloring
And much, much more!
Still wonder if this book can help you? Look back over the many positive comments I've received from photographers around the world. And these are just a small sample.
Then , if you're ready to order and quickly improve your Photoshop skills, ordering is simple.
Just click on the "BUY NOW" link below and you'll be taken to my convenient, Photoshop Recipe Card online order page.
The order page is hosted by PayPal, the internet's most popular and secure online payment service. You can use your Visa and Mastercard there too. Payment will show the vendor as: rmchoiceii@yahoo.com. That's me!
Once I receive your order, I'll rush "The Original Photoshop Recipe Cards" book out to you, along with a special bonus CD, via the U.S. Postal Service. Most orders go out the same day.
The book and bonus material will be in your hands in just days. You'll be creating incredible Photoshop images faster than you ever dreamed you could!
*************************************************
Summer Discount Price of $15.95 now thru 8/30/15

*************************************************
SPECIAL BONUS OFFER!
>>>>>>>>>>>>>>>>>>>>>>$$$<<<<<<<<<<<<<<<<<<<<<
PLUS! when you act now,
You'll get a Special Bonus CD that includes 2 great PDF resources…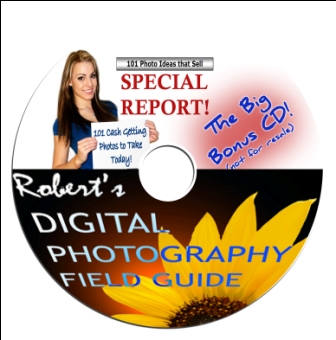 BONUS #1
101 PHOTO IDEAS THAT SELL
Why keep all your new Photoshop talent to yourself, when you could easily be selling your photo creations for cash!
In this special report I tell you what photos sell like hotcakes, and what photos go over like lead balloons.
There's one type of photo that has selling power and price flexibility far beyond all the other photo types. You'll discover which photo is proven to sell best in this report. And you'll have tons of variations to choose from.
Armed with this one secret, you could earn back your small investment selling just one tiny photo! You could build an entire digital photography business and make a killing while others are still wandering around clueless.
It's a $9.95 special value report and you get it for FREE as my bonus when you act now!
PLUS…
To save you even more time, I'll include my…
BONUS #2
DIGITAL PHOTOGRAPHY FIELD GUIDE
Because when you get the photo right the first time, you'll spend less time editing and trying to correct it in Photoshop. That's the ultimate time saver and the goal of every of great photographer.
This CD is a great seller all by itself at $14.95…but you get it FREE when you invest in the Photoshop Recipe Card book today!
In the Digital Photography Field Guide you get the camera settings, best time to go, equipment you'll need, and things to watch out for.
It's like having a pro photographer standing right next you!  You'll know how to get the best photos anytime, anywhere.
You get the essentials for:
• General Photography……..pg 3
• Beach Photos……………….pg 4
• Desert Photos……………….pg 5
• Downtown Photos………….pg 6
• Fireworks Photos…………..pg 8
• Landscape Photos…………pg 9
• Mist and Fog Photos……..pg10
• Night Photos………………..pg11
• People and Pet Portraits…pg12
• Rain Photos………………….pg13
• Snow Photos………………..pg14
• Sport Photos………………..pg15
Plus great resource links at the end offer even more photography and Photoshop tips!
This info-packed pdf on CD is a steal at $14.95 but you get it FREE as a Bonus for taking fast action today.
Finally…You get my 100% Satisfaction Guarantee
"Try my book risk-free for one entire year. You have 365 days to decide if this book is right for you. If it's not, just send it back for a full, no-questions-asked refund…And keep the 2 bonus gifts with my thanks just for trying out the book."
There's no downside for you!
You get $45 worth of time-saving, skill-building Photography and Photoshop materials…
***************************************************
You get "PHOTOSHOP RECIPE CARDS"
You get the bonus CD with "101 Photo Ideas that Sell"
and "Digital Photography Field Guide
You get it all for… now just $15.95 + s/h
You'll save over $25 when you act now
and still have one full year to decide if it's right for you!
And no matter what, you get to keep the 2 bonus reports!
***************************************************
As I said before, I'm not some Photoshop guru out to get rich off selling you my overpriced courses.
Photoshop Recipe Cards is a great book, affordable for everyone, and a steady seller around the nation and the world since its introduction in 2010. You really are getting the bonus materials free. I didn't inflate the book price or shipping charge and try to tell you the rest was "free".
(I hate that!)
You're getting $45 worth of value …and probably more…for only $15.95 when you order now, risk-free. More than that, you're investing in a skill that lets you easily create and sell great photo art – and that's a skill in great demand right now.
You don't have to struggle with Photoshop…
…there IS an Easier Way!
Whether you want to make gobs of money, amaze your friends, or simply create beautiful art to hang at home, Photoshop is the tool of choice for today's aspiring photographer.
Try Photoshop Recipe Cards today! I know you'll love them.
In fact, I personally guarantee it!

Robert Schwarztrauber
P.S. Even if you're a Photoshop pro, this book is an excellent quick reference guide to have on your desk. Use it for inspiration, diversification, or to quickly remind yourself of that one step you may have forgotten. You'll quickly find all the answers you need right here. Plus, you get all those bonus freebie's too!
************************************
Get "Photoshop Recipe Cards"
Plus "101 Photo Ideas that Sell" …free!
Plus "Digital Photography Field Guide"…free!
Get it all for only $15.95!
Order now!... Summer Discount Price Ends Soon.

If you prefer to pay by check,
you can send payment of $15.95 + $3.00 s/h (Total $18.95) to:
Robert Schwarztrauber
102 Parkhurst Blvd
Buffalo, NY 14223
_______________________________________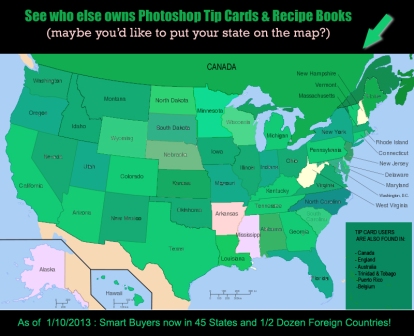 Photoshop Recipe Card Book - Mapping Sales from Around the World!
__________________Get Your Book Today!_____________________
Photoshop is a registered trademark of Adobe. Photoshop Recipe Cards and Robert Schwarztrauber are not affiliated in any way with that company. Photoshop Recipe Cards are only for educational assistance with learning the fine Photoshop Software. You may or may not make money with your Photoshop skills, no income -in anything- can ever be guaranteed. Results will depend on your own activity and skill level.
Here's Everything You'll Get
When You Place Your Order Now
PHOTOSHOP RECIPE CARD BONUS PKG

Photoshop Recipe Card Book: 100's of tips, tricks and secret shortcuts to help you quickly get good at Photoshop
$19.95
Robert's Digital Photography Field Guide: You'll never wonder what camera settings to use again. One quick look in the guide has you ready to take great photos every time.
$14.95
101 Photo Ideas That Sell: When you can sell your photos for cash, new opportunities open up everywhere. Tons of simple, clever, Ah-ha! money-making ideas inside.
$9.95
Total Real World Value Today:


$45
Get Yours Today for:
Just $15.95
Priority Photoshop Recipe Card Book
Order Form

YES! I want these exact strategies, tips and tricks to get real good at Photoshop, real fast.

I understand I will be billed just $15.95 +s/h today to receive fast shipment of my "Photoshop Recipe Book and Bonus CD.
I can get a refund for any reason or no reason whatsoever within the next 365 days

Just $15.95
P.S. If you've slogged through all this information to arrive at this final point, my guess is you've already spent a good deal of money to buy an  expensive camera AND the pricey Photoshop software. Perhaps thousands. At least a few hundred. And you've probably wasted countless hours trying to figure it out on your own. But you're still not happy with your photos and you'd like to fix that. I know this book can help you, in fact, I promise to refund all your money back if it doesn't. It's just 15 bucks. Why not help yourself and have a look at least?
P.P.S. Everything is in stock so shipments go out the same or next business day. You're sure to have your book in your hands fast. Imagine creating great photos that same day.